Orthopedic PRP Injection Training
Live & Online Platelet Rich Plasma Certification Course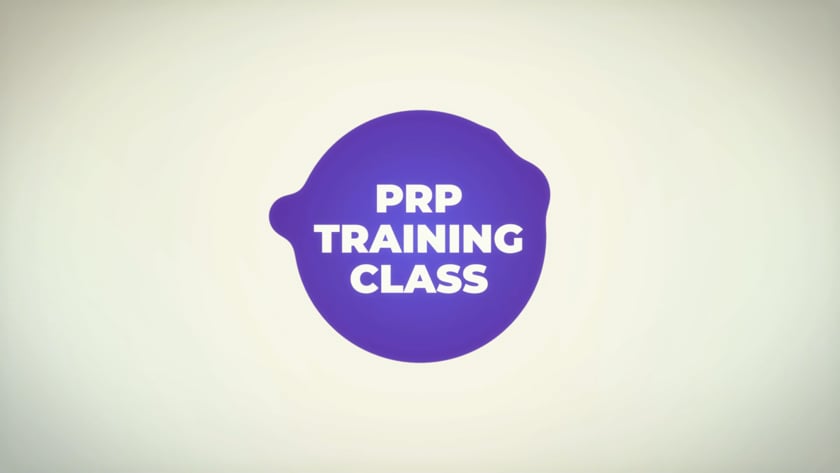 PRP Joint Injection Course Overview
Perfect PRP™
Learn the concept of Perfect PRP™, and how to use the method to optimize your outcomes.
Learn how to produce better quality PRP, and how to calculate the appropriate concentration for each and every patient to improve outcomes.
Learn why, when and how to augment PRP to improve your outcomes.
Injectables:
Understand the effects of steroid injections, and why to avoid them in most cases.
How to perform a diagnostic injection, to gauge whether your regenerative injection might be successful.
What is Hyaluronic Acid, and how can it be used with PRP.
Shoulder:
Differential diagnosis of shoulder pain
How to examine the shoulder, and determine where the injection should be performed
Give you the skills for Injection Techniques for rotator cuff pathology, arthritis, labral tears, and biceps tendonitis
Elbow:
Differential diagnosis of elbow pain
How to examine the elbow, and determine where the injection should be placed
Give you the skills for Injection techniques for golfer's and tennis elbow
Knee:
Differential diagnosis of knee pain
How to examine the knee, and determine where the injection should be placed
Learn how to review MRI reports, and determine if your injections will be successful
How to grade osteoarthritis on an x-ray or x-ray report
Give you the skills for Injection techniques for arthritis, ligament injuries, meniscal injuries, and tendonitis
Foot and Ankle:
Diagnose and treat Achilles' tendonitis with PRP
Learn to diagnose and treat chronic plantar fasciitis, one of the hardest problems for podiatrists
Marketing:
How to market to YOUR People…. The Key to all of this is that YOU WILL BE TAKING
BETTER CARE OF YOUR PATIENTS–the reward becomes a more profitable practice.
How write an effective email, get results, and make money from your email list
How to make a video or podcast, and get it in the hands of your patients
Jeffrey Piccirillo, D.O. hosts both the online and hands-on training class. Having performed well over 5000+ procedures, Dr Piccirillo has literally written the book on PRP therapy. Jeffrey Piccirillo, DO is a board-certified orthopedic surgeon. He completed his undergraduate work at The Pennsylvania State University in 1994 and attended medical school at the Philadelphia College of Osteopathic Medicine, graduating valedictorian in 1989. He continued his training in orthopedic surgery at the Chicago Osteopathic Medical Center in from 1989 to 2004, and then entered into private practice.
In 2002, when a representative from one of the major joint replacement companies brought a centrifuge into the operating room, his love for regenerative medicine and platelet rich plasma (PRP) began. In 2009, he switched from a surgical practice to one focusing on the regeneration of tissue, not replacement, and his mindset on medicine began to evolve. As his protocols, and products evolved, Dr. Piccirillo began consulting and holding PRP injection training courses with other practices, teaching them how to get on the regenerative medicine platform. He developed a friendship with Dr. Charles Runels, and innovator in PRP in his own right. He has recently completed a chapter entitled "Stem Cell Medicine- What does the future hold??" in Dr. Judson Brandeis' book, Optimizing Manhood which will be released in early 2021.
Dr. Piccirillo hold a service mark for Perfect PRP™. which is a step-wise method to optimize the patient prior to PRP procedures, and improve over all outcomes. He teaches his methods in workshops all over the world. He is married, with daughter (Tricia) in Chicago, and a son (Brian) at home in Florida. When he is not teaching in the United States and around the world, you will find him in his garden, or writing in front of his computer.
Platelet Rich Plasma Course FAQ's
Who is Qualified to Perform PRP Injections?
In order to perform PRP injections, you need a valid medical license. Generally any MD, DO, PA, etc. is qualified to perform PRP joint injections. Many nurses are also eligible depending upon whether they're required to inject under a supervising physician by their local medical board or given full practice authority.
How long is the online platelet rich plasma training?
The online training can be complete over a weekend. There are roughly 18 videos ranging from 5-20 minutes each. The course is self-paced so you can watch the videos at your own speed and be able to come back to re-watch a lesson at any time.
What type of centrifuge do I need for PRP therapy?
In order to perform PRP therapy, the centrifuge you use needs to be FDA Approved. We see a lot of practices and practitioners using basic lab/research centrifuges which can not be used to process blood which is intended to go back into the body. Send Jeff an email at drjeff@prptrainingclass.com for help finding a centrifuge.
How Does Platelet Rich Plasma Work?
Platelet-rich plasma (PRP) is a blood derivative containing a higher concentration of platelets than found in whole blood. The use of PRP has gained global interest for its use in regenerative therapy for injuries and degenerative conditions. Due to the high concentration of platelets, PRP can deliver supraphysiologic doses of growth factors that can boost the natural healing process in both acute and chronic injuries. The growth factors released play a role in all three phases of wound healing and tissue repair (inflammation, proliferation, and remodeling) making it ideal for the treatment of injuries.
Platelet-derived growth factor (PDGF), fibroblast growth factor (FGF), vascular endothelial growth factor (VEGF), insulin-like growth factor-1 (IFG-1), and numerous other growth factors aid in healing by stimulating cellular growth, migration, and morphogenesis. In addition, these factors enhance fibroblast migration and proliferation, upregulate vascularization, and increase collagen deposition. These biologic properties make PRP ideal in the treatment of tendinopathy, which intrinsically has a poor ability to heal. Additionally, PRP has the ability to aid in the healing of ligaments, muscle, and bone, as well as, has been shown to be beneficial in mild to moderate osteoarthritis.
Importantly, PRP is obtained from the patient's blood and thus has no known adverse effects or allergic reactions. A property that neither corticosteroids nor hyaluronic acid can claim. Overall, PRP injections have shown great potential in the treatment of various tendinopathies, spinal disorders, recalcitrant wounds, and osteoarthritis without the risk of side effects.
Why Add PRP Injections to Your Practice?
The most common musculoskeletal disorder patients seek medical treatment for is tendinopathy. Osteoarthritis affects approximately 14 million Americans, a number that is expected to continue to increase. Having the ability to administer PRP for tendon and joint pain provides patients with an effective, non-surgical option for these debilitating conditions.
PRP has shown success in the treatment of various tendinopathies such as Achilles, rotator cuff, patellar, and lateral epicondylitis (tennis elbow). PRP injections have also been shown to be effective in the treatment of mild to moderate osteoarthritis. This innovative therapy can set your practice apart and provide your patients with one of the most exciting advancement in sports medicine and regenerative therapy. PRP is among one of the most researched and interesting therapies currently being used and can benefit both your surgical and non-surgical patients.
References:
1.) Boesen AP, Hansen R, Boesen MI, et al. Effect of high-volume injection, platelet-rich plasma, and sham treatment in chronic midportion achilles tendinopathy: a randomized double-blinded prospective study. Am J Sports Med. 2017;45:2034–2043.
2.) Rha D, Park G-Y, Kim Y-K, et al. Comparison of the therapeutic effects of ultrasound-guided platelet-rich plasma injection and dry needling in rotator cuff disease: a randomized controlled trial. Clin Rehabil. 2013;27:113–122.
3.) Shams A, El-Sayed M, Gamal O, et al. Subacromial injection of autologous platelet-rich plasma versus corticosteroid for the treatment of symptomatic partial rotator cuff tears. Eur J Orthop Surg Traumatol. 2016;26:837–842.
4.) Dragoo JL, Wasterlain AS, Braun HJ, et al. Platelet-rich plasma as a treatment for patellar tendinopathy: a double-blind, randomized controlled trial. Am J Sports Med. 2014;42:610–618.
5.) Vetrano M, Castorina A, Vulpiani MC, et al. Platelet-rich plasma versus focused shock waves in the treatment of Jumper's knee in athletes. Am J Sports Med. 2013;41:795–803.
6.) Mishra AK, Skrepnik NV, Edwards SG, et al. Efficacy of platelet-rich plasma for chronic tennis elbow: a double-blind, prospective, multicenter, randomized controlled trial of 230 patients. Am J Sports Med. 2014;42:463–471.
7.) Gosens T, Peerbooms JC, van Laar W, et al. Ongoing positive effect of platelet-rich plasma versus corticosteroid injection in lateral epicondylitis: a double-blind randomized controlled trial with 2-year follow-up. Am J Sports Med. 2011;39(6):1200–8.
8.) Peerbooms JC, Sluimer J, Bruijn DJ, et al. Positive effect of an autologous platelet concentrate in lateral epicondylitis in a double-blind randomized controlled trial: platelet-rich plasma versus corticosteroid injection with a 1-year follow-up. Am J Sports Med. 2010;38(2):255–62.
9.) Arirachakaran A, Sukthuayat A, Sisayanarane T, et al. Platelet-rich plasma versus autologous blood versus steroid injection in lateral epicondylitis: systematic review and network meta-analysis. J Orthop Traumatol. 2016;17(2):101–12.
10.) Krogh TP, Bartels EM, Ellingsen T, et al. Comparative effectiveness of injection therapies in lateral epicondylitis: a systematic review and network meta-analysis of randomized controlled trials. Am J Sports Med. 2013;41(6):1435-46.
Online or Hands-On PRP Training Class Available
30-Day Money-Back Guarantee
Lifetime access to the online training videos
Medical journal articles for further research
Device and equipment sources
Patient consent forms
Pre and post-treatment instructions
10 pre-written patient marketing emails
Certificate of completion mailed to you
What People Are Saying About The O-Shot®